Permanent Makeup
Beauty for a long time
In our cosmetic treatments, we use permanent make-up with great success. A discreet accentuation of your eyebrows, a professional eyelid line and well-shaped lips give you a harmonious look already when you wake up in the morning.
Furthermore, our beautician regularly carries out so-called human medical pigmentations. In the process, lost nipples and areolas are optically restored, especially after tumor-related interventions. Together with our doctors, the cosmetic applications can also be performed painlessly under local anesthesia.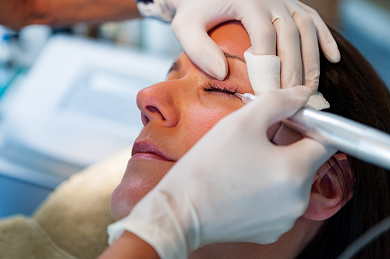 All prices that are listed here are guideline.
The final cost will be determined after a personal consultation.
The indicated prices are net prices exclusive of the value added tax.
Unobtrusive, natural hair line incl. shaping
€ 450,- – 890,-
Tinting with forming support
€ 350,- – 550,-
Full drawing with design
€ 450,- – 700,-
---
Finest outline with filling of the red of the lips, incl. design
€ 620,- – 910,-
Lip shaping for lip enhancement, contours and the red of the lips incl. design and plastic surgery corrections
€ 500,- – 1.100,-
Temptoo - Your desired body image
ab € 70,-
Fruit acid peeling package (approx. 6 treatments)
ab € 280,-
Finest eyelash enhancement for upper and lower eyelid
€ 430,- – 690,-
Shaped eyelid line
€ 295,- – 395,-
Shaped lash line lower eyelid
€ 255,- – 340,-